-Copied from other post to make it easier to find-
Here we go lads. the dyno graphs are in. jem couldnt post them cause he's not infront of a pc so here they are.
This is the first run on my tune/autotune. You'll notice it's leaned out a touch at 4.5k. still within parameters but better to be safe then sorry so jem installed injectors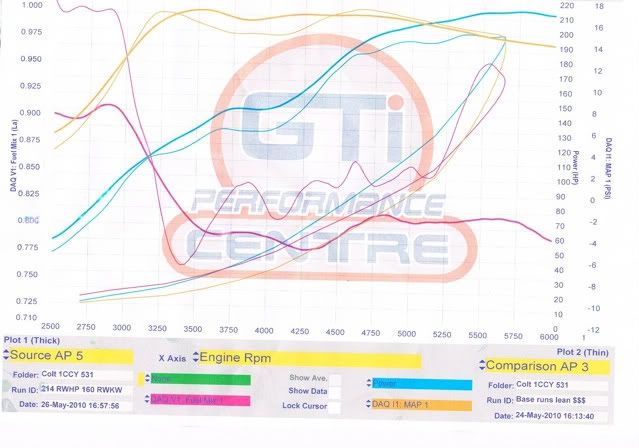 second run with injectors in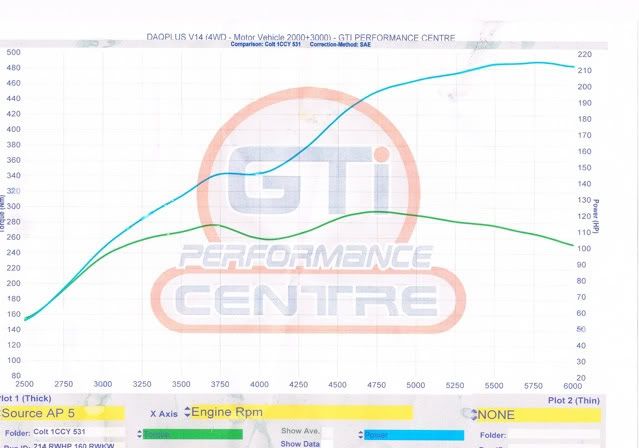 That's some crazy figures when you assume that the stock colt is reported to output 113kw flywheel (151 hp) and 210nm of torque. The closest real stock figure at the wheels i could find was 92kw ( 123 hp)
Jem's car with adapt pulled 160.32kw (215hp) and 297 nm of torque atw.
Lets put this into perspective.
160.3 - 92 = 68.3 / 92 = 0.742 * 100 = 74.2% !!!!!! increase in kw atw
297 - 210 = 87 / 210 = 0.414 * 100 = 41.4% increase in torque atw.
(Please correct me if my figures are wrong for the stock colt)
so yeah once i looked at the numbers i realised how crackers it was. notice on the second dyno graph at 4750 the torque seems to drop off. Jeremy has informed me that the tune was set at this maximum to be within safe operating parameters of the stock turbo. any more and it would be over speeding and could cause possible damage to the turbo aswell as being completely out of its ve range. so we could get more power but at the risk of the turbo murdering itself. once i get my car on the dyno i will be able to show you the comparison of going to a bigger turbo or hopefully we can do the conversion on jems car aswell. so there ya go. some amazing power increases with an adaptronic